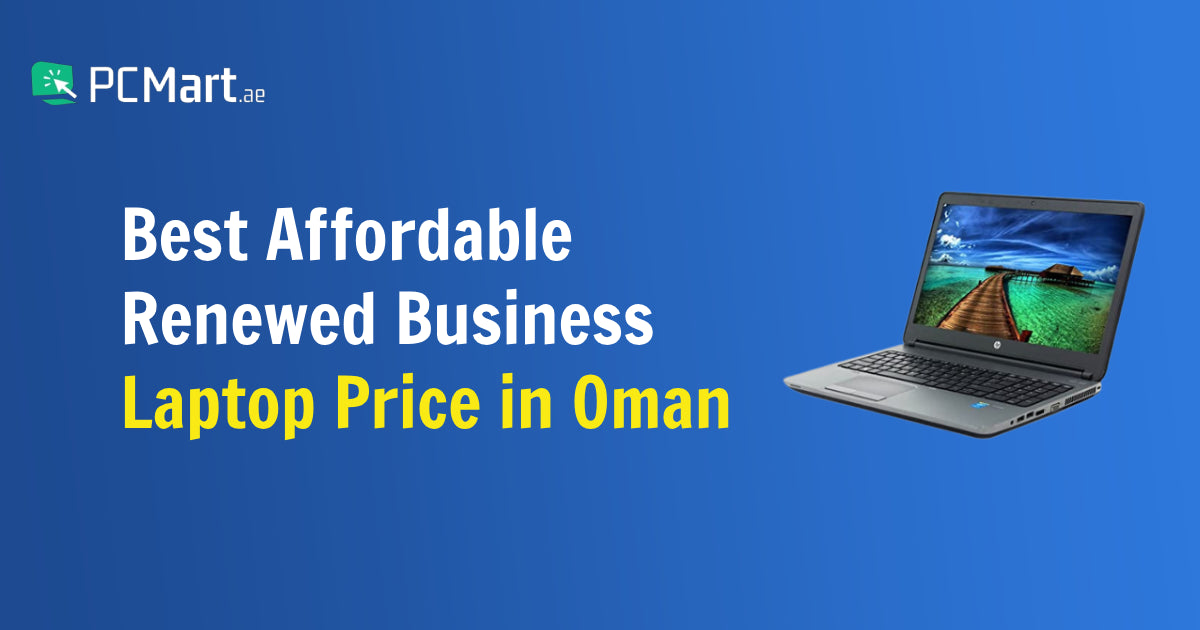 Best Affordable Renewed Business Laptop Price in Oman
Having a great business laptop means having the best tool for corporate navigation. It is not just a luxury; it is a necessity. Of the available laptop prices in Oman, people feel they need help to afford business laptops. However, a renewed business laptop can go a long way, for the best-renewed business laptops offer durability, power, security, and ease of use, whether in the office or working from home. 
With PCMart, we are not just providing the necessity of renewed business laptops to the people of the United Arab Emirates but also to the broader Middle East. We understand that affording a reliable computer at a fraction of the manufacturer's cost seems like a dream, but now it is a reality. Are you looking for the best laptop series for even better price ranges? Please read this blog to the end to find out some of our robust laptop series in our inventory.  
Best Laptop Price in Oman: Why Choose PCMart?  
With a focus on providing quality products and exceptional customer service, PCMart has become a trusted name in the computer retail industry in the UAE and across the Middle East, including Oman. Here are some of the critical features we fulfill that make us one of the best retail places to get renewed business laptops from anywhere in the Middle East:  
Provide Budget Gadgets  
PCMart provides both PCs and laptops of various reputed brands. Our devices are renewed, which means that a team of professionals thoroughly looked at the gadget and reassembled it to make it as good as new.   
A plus point for purchasing renewed laptops in Oman is that they fall within your budget without missing any key features, especially if you are a student or a business organization looking to buy computers in bulk.   
Variety of Computer Systems  
We offer a variety of computer systems in different shapes, sizes, and designs for optimum laptop prices in Oman. Our most sought-after laptops include methods that provide immersive gaming experiences, business notebooks, and form factors.   
Some of the notable renewed laptops at PCMart include brands such as HP, Dell, Lenovo, and Toshiba.     
All Features Inclusive  
We have the following categories for renewed laptops on our website:  
These categories mean each of the laptops falling under these categories has unique features that make them resourceful. We list business and college laptops and PCs/desktops in our renewed categories, e.g., Dell Latitude 7400 and Dell XPS 8960 Desktop    
In the gaming categories, we have the renowned Dell Alienware m15 R3 and Dell Alienware Aurora R13 desktops, among others. All these computers pose no burden to the wallet, making them a wise investment in considering the trends of laptop price in Oman.   
Best Affordable Renewed Business Laptops We Offer  
Best renewed laptop prices in Oman on various online shops vary based on your desired product. However, at PCMart, you can get amazing deals and discounts based on your preferences. Here are some of the best affordable renewed business laptops on PCMart website:  
Lenovo ThinkPad X1 Carbon 

 
HP EliteBook 840 G4  
We prize HP's EliteBook 840 G4 for its premium build quality and top-notch performance when it comes to business handling. This laptop is designed with business professionals in mind, offering a sleek and professional appearance ideal for office and remote use. Powered by Intel Core processors, the EliteBook 840 G4 delivers reliable and efficient performance, enabling you to tackle demanding tasks easily.  
The renewed EliteBook 840 G4 has an impressive display: a Full HD (1920 x 1080) 14-inch display with crisp and vibrant visuals, making it perfect for presentations and multimedia content. EliteBook 840 series keeps privacy a top priority, which explains the robust security features like HP Sure View, which helps protect sensitive data from prying eyes. If you want the most comfortable keyboard HP ever came up with, this is it.   
Notable Features of a Budget Business Laptop  
Hard Disk Size: No HDD 

 

Solid State Drive: 256GB SSD  

 

Installed RAM Size: 16GB 

 

Operating System: Windows 10 Pro 

 

Card Description: Integrated 

 

Processor: Intel Core i5-7th Gen 

 

CPU Speed: 2.70GHz 

 

Hard Disk Description: SSD 

 
Dell Latitude E7470  
Renewed Dell Latitude E7470 laptops are among PCMart's top sellers, and it's easy to see why. These laptops seamlessly combine performance, durability, and portability, making them a favorite among professionals.
They excel in multitasking, delivering swift and efficient performance, making them the go-to choose for individuals who rely on their laptops for a wide range of tasks.
Their slim and stylish design not only adds to their appeal but also makes them convenient to carry to meetings or when you're on the move. Plus, their robust build quality ensures they can handle the demands of the corporate world with ease. 
One standout feature of the E7470 is its vibrant display, which delivers sharp and vivid visuals. Whether you're working on detailed spreadsheets, giving presentations, or enjoying multimedia content during downtime, the display won't disappoint.
Additionally, Dell has prioritized security for a reasonable business laptop price in Oman with features like a fingerprint reader and TPM encryption, providing peace of mind for businesses handling sensitive data.   
Notable Features of Budget Business Laptop  
Screen Size: 14 inches 

 

Hard Disk Size: No HDD 

 

Display Resolution: 1366 x 768 

 

Solid State Drive: 256GB SSD  

 

Installed RAM Size: 8GB 

 

Operating System: Windows 10 Pro 

 

Card Description: Integrated 

 

Processor: Intel Core i5-6300U 

 

CPU Speed: 2.40-3.00GHz 

 

Hard Disk Description: SSD 

 
Lenovo ThinkPad X1 Carbon  
The renewed Lenovo ThinkPad X1 Carbon embodies excellence in business laptops. With its sleek and durable design, it has come to be known for its iconic black carbon-fiber chassis. The design choice is intentional to exude a sense of professionalism and sturdiness. It's fragile and lightweight, making it an ideal choice for professionals on the go.  
Under the hood, the ThinkPad X1 Carbon packs impressive hardware. Depending on the configuration, it can be powered by Intel Core processors, providing speedy and efficient performance for various business tasks. The laptop also boasts a vibrant and crisp display, making it a pleasure for both work and multimedia consumption. Moreover, it offers a comfortable and responsive keyboard, a hallmark of the ThinkPad series, making typing for extended periods a breeze. With its robust security features and long battery life, the Lenovo ThinkPad X1 Carbon continues to be a top choice for those seeking a premium business laptop that delivers on all fronts.  
Notable Features of Budget Business Laptop  
Hard Disk Size: No HDD 

 

Solid State Drive: 512GB SSD  

 

Installed RAM Size: 16GB DDR4 

 

Operating System: Windows 10 Pro 

 

Card Description: Integrated 

 

Processor: Intel Core i7-8550U CPU 

 

CPU Speed: 1.80 GHz 

 

Hard Disk Description: SSD 

 
Conclusion  
Looking for a budget-friendly laptop price in Oman might seem daunting if you need help knowing where to look. At PCMart, we have some of the most potent and sturdy business laptops of famous brands such as HP, Dell and Lenovo.   
All these laptops are durable and portable, making them excellent choices for business work. Their crystal-clear screen resolution, long-lasting battery, and power-intensive task handling make them a popular choice, not only from PCMart inventory but also from the manufacturers.   
Want to buy a renewed laptop at a great price in Oman? Head on over to our website to find the perfect fit for yourself.  
---
Older Post
How is Dell XPS 9700 Making a Strong Comeback?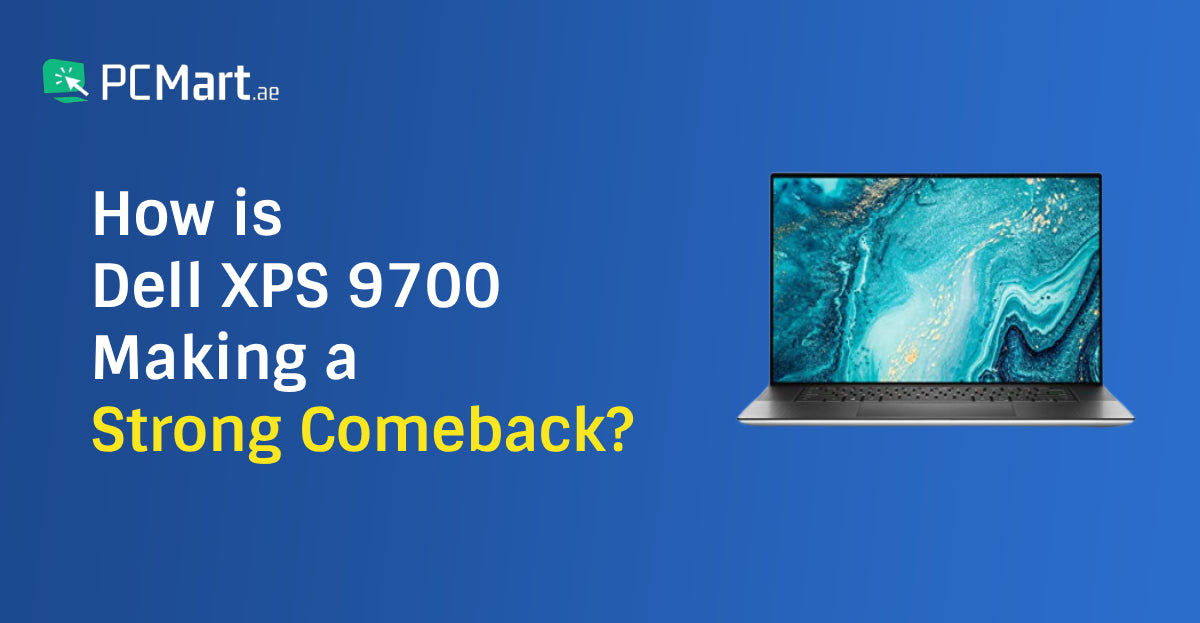 Newer Post
Is Dell OptiPlex 7460 as Powerful as They Suggest?