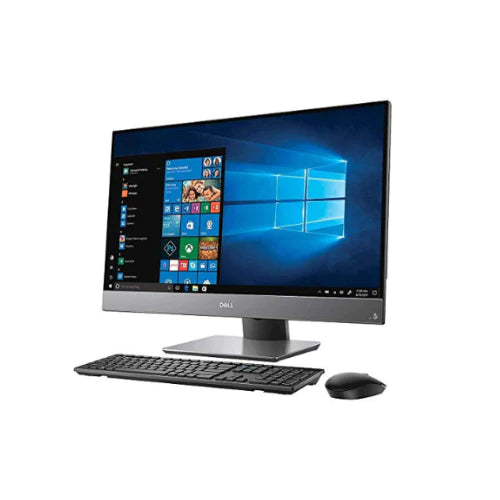 How Renewed Desktops Are Revolutionizing the Gaming Industry
If you are new to gaming, every console seems mind-blowing. Only veteran gamers know how fun owning and using a gaming desktop is. With a gaming desktop, we have the performance and realism indexes that make today's games enjoyable by many degrees. 
Developers look for ways to revolutionize gaming desktops. An unlikely champion with renewed gaming desktops has emerged recently, particularly in the UAE. PC Mart has seen a significant spike in refurbished laptops and desktops. In this blog post, we will discuss how refurbished gaming desktops can change the industry by providing high-performance, low-cost gaming options for the future.
Revolutionizing Benefits of Renewed Gaming Desktops
For a good reason, renewed gaming desktops are becoming increasingly popular among gamers. They are subjected to extensive testing and inspection to guarantee that our refurbished used gaming systems maintain or improve upon their original performance levels. Giving these desktops a second chance at life reduces e-waste and helps foster a more environmentally friendly gaming community.
Following are some benefits you get when you opt for a renewed gaming desktop, especially from PC Mart:
Cost-Friendliness
Investing in a renewed gaming PC is for those who cannot afford high-end PCs. They are available at a fraction of the cost of their brand-new equivalents. On the PC Mart website, you can find some Dell desktops as low as 800 Dhs.


Performance Reliability
In contrast to the widespread belief, refurbished gaming computers offer dependability and performance that have been optimized. At PC Mart, our professional technicians do comprehensive hardware examinations, part replacements (if necessary), and software upgrades as a part of the renewal process. The process ensures a seamless and dependable gaming experience for the customer.
Feature Specifications
At PC Mart, you will find many options for customizing renewed gaming desktops. 
Dell Alienware Aurora R13 Gaming Desktop (2022)
One of the best examples in this regard is our all-time popular Renewed Dell Alienware Aurora R13 Gaming Desktop (2022), available on our website. The newly updated Dell Alienware Aurora R13 is an impressive display of strength and dependability. Carefully restored to strict performance requirements, this desktop system offers various features that will appeal to experienced gamers and newbies.
DDR5 Memory clocked at 4800MHz and a 12th generation Intel 16-core processor on the Core i9-12900F processor, allowing exceptional multitasking. To save power, the processor will run @ 2.4 GHz under low use but will boost to 5.1 GHz under heavy use for powerful performance.
Some other feature specifications include (not limited to):
Price: Dhs. 9,999.00

32 GB DDR5 RAM Running at 4800MHz 

1 TB (1024 GB) PCIe NVMe M.2 Solid State Drive and a second 1 TB (1024 GB) Hard Disk Drive 

Windows 11 Operating System

Nvidia GeForce RTX 3080 Graphics Card
Upgradeable
A system that has components that could last you the next decade is great. But having back-end support allows you to upgrade without replacing any other components. Fortunately, we can see impressive strength and dependability with renewed gaming desktops such as Dell Aurora R13. This desktop offers various features that will appeal to experienced gamers and newbies. 
Our inventory holds seven different versions of the Dell Aurora R13, each having unique RAM, HDD, and processing powers to match your needs. With the option to add multiple drives, gamers can store their vast collection of games and media without worry.
Ecological Smart Choice
Choosing a renewed Dell Alienware Aurora R13 isn't just the green option; it's also the best gaming choice. Gamers may do their part to support sustainable practices and reduce electronic waste by purchasing a previously owned system. The ideas of the circular economy keep refurbishing and recycling existing gaming devices, leading to a more sustainable future for gamers everywhere.
Dell Reliability and Support
Your choice to get Aurora R13 from the PC Mart website means signing with Dell's long-standing reputation for reliability and customer support. Dell's commitment to quality ensures that every component in the refurbished Aurora R13 meets rigorous standards, allowing gamers to embark on their gaming adventures with peace of mind.
Future of Gaming Desktops: What Can We Expect?
We can expect gaming desktops to evolve via better graphics cards and accommodating screen dimensions. We know that NVIDIA and AMD introduced GPUs to enhance gaming desktop speeds. However, this feature is transforming into revolutionary ray tracing in the latest games.
Graphics programmers have developed many ingenious techniques to create a convincing simulation of the natural world. Graphical representations' levels of detail change with the player's distance from them, and particle effects and shaders generate clouds and mist.
In the coming years, more and more advancements in ray tracing will bring better gaming PCs. With competition already in full swing in PC development, we hope for a brighter future where gaming desktops are set to revolutionize gaming culture. 
Conclusion
Renewed gaming powerhouses like the refreshed Dell Alienware Aurora R13 hold the key to the future of gaming PCs. The Aurora R13 is the pinnacle of gaming desktops thanks to its powerful performance, cutting-edge cooling, fully customizable aesthetics, and increased storage capacities.
By switching to renewed gaming PCs like the Aurora R13 on the PC Mart inventory, players may save money and resources without sacrificing access to cutting-edge games. The refreshed Dell Alienware Aurora R13 is a pioneering example of advanced design in the gaming desktop industry, pointing the way toward a brighter, more resilient future. Together, we can reimagine the future of gaming by retooling existing systems.
---
Older Post
Best Budget Laptop - Affordable Performance for Students
Newer Post
5 Expert Tips to Protect Renewed Laptops