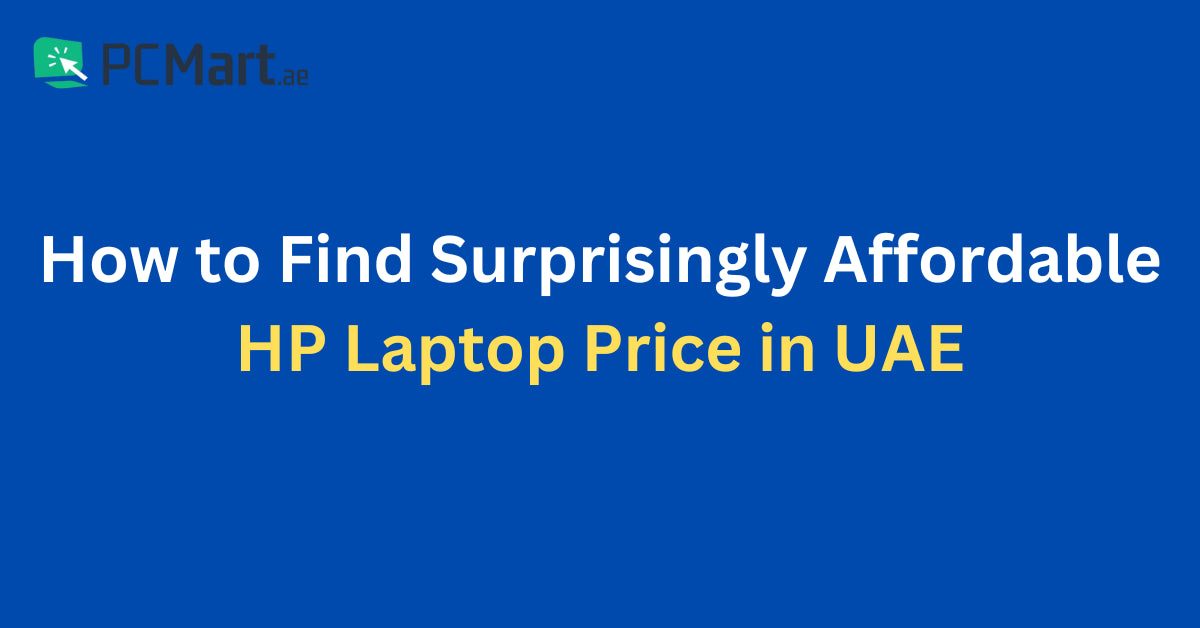 How to Find Surprisingly Affordable HP Laptop Price in UAE
Getting your daily work done can be one of the biggest blessings one can ask. With HP you can accomplish this in mere hours. Some might suggest that HP is an expensive brand but that is not the case when it comes to laptop prices in the UAE. 
If you are a student or a startup looking to stack inventory, your instinct would not be to throw away hundreds of dirhams to get one piece of tech gadget. For such a consumer base, retailers like PCMart provide excellent laptops with cheaper contemporary features than their manufacturer counterparts.  
In this blog, we will see which HP laptops are designed to be surprisingly affordable for students and businesses alike. We will also talk about the bestselling and unique selling points that make PCMart a hub of renewed computers and accessories.   
Renewed HP Laptop Price in UAE: A Middle East Comparison 
Renewed laptops tend to be cheaper. However, we see a clear difference when comparing HP laptop prices in the UAE with those in Oman or Bahrain. It may be because of the UAE's no taxation policy, which makes electronics cheaper in the region than in the rest of the Middle East.  
However, the more plausible reason for affordable HP laptops in the UAE is the investment in the country, especially in Dubai. Many IT and software startups have sprung up in Dubai in the last decade alone, prompting a massive demand for budget-friendly office laptops. Companies like HP were wise to invest promptly.  
Is Renewed the Same as Used Laptops?  
Used computers are mostly hand-me-downs: laptops passing from one individual to the next. You can easily find some used HP laptops on eBay. The only explicit guarantee your used laptop will work is from your seller. There is only one reliable way to find the truth once you use the product, which can be too late.  
On the other hand, renewed laptops are usually where a third party intervenes for quality assurance, the manufacturer, or a reputed retailer. We use the term "renewed" to mean that the products we receive are thoroughly inspected, tested, and reassembled to maintain their original quality. After a thorough inspection, we ensure the laptop's built-in software or hardware features remain unchanged.  
Which Is the Best HP Laptop for an Affordable Price in the UAE?
We often get asked about the best HP laptop price in UAE, and we always reply with either a ProBook or an EliteBook. HP has spent years perfecting its features for its business and education laptop series, explicitly targeting its ProBook and EliteBook series to cater to that niche. These series come packed with a ton of power under the hood: powerful processors, sturdy battery life, durable RAM storage, etc.  
To find the best HP laptop for your needs, you must look at all the unique features the HP laptop series holds. Some of the best budget HP laptops on our website are listed as follows:  
HP EliteBook 830 G5  

 

HP ProBook 650 G3 

 

HP EliteBook 840 G3 

 

HP ProBook 640 G2 

 
HP EliteBook 830 G5: Portability with Style 
Processor: HP EliteBook 830 G5 contains an Intel Core i5 7th Gen processor, making handling daily business tasks a piece of cake. The laptop has two cores, a 3 MB Intel Smart Cache, and 2.5-3.10 GHz clock speeds.  
Graphics: For a business or education laptop, EliteBook 830 G5 comes with Intel HD Graphics 620, some of the best graphic cards out there. You can get clear, detailed graphics on a 13.3-inch display screen, enhancing your productivity and viewing pleasure.  
Storage: With 8 GB of RAM and a speedy 256 GB Solid State Drive (SSD), you will enjoy seamless multitasking and quick access to your files.  
Sleek Styled: You would expect a laptop like this to be innovative and elegant, and EliteBook 830 G5 precisely delivers that. It measures just 17.7 mm (about 0.7 in) in height and weighs only 1.33 kg. You know HP designed this for those who demand both style and portability.  
Warranty: For added peace of mind, this laptop comes with the IT-SIZER Golden Warranty, making it eligible for replacement or refund within 15 days (about two weeks) if you still need more. This offer comes on top of the 90-day tech warranty provided by PCMart.  
HP ProBook 650 G3: Durability Guraranteed 
Processor: The laptop equips an Intel Core i5-7th Generation CPU and 16GB of DDR4 RAM, delivering impressive performance for multitasking and productivity tasks.  
Display: The 15.6-inch display highlights the resolution options, making clear and crisp visuals in Full HD (1920 x 1080).  
Storage: With HP ProBook 650 G3, you get a 512GB SSD hard drive to experience faster data access and ample storage space for your files and applications.  
Durable Build: The ProBook 650 G3 is designed to bear a generic business workplace. HP has added a durable chassis to the machine to handle daily portability safely.  
Security Measures: For enhanced data protection, it offers features like HP Sure Start Gen3, HP BIOSphere, and TPM (Trusted Platform Module).  
Docking Compatibility: This ProBook is compatible with HP docking stations, making it easy to connect to multiple peripherals and external displays for a streamlined workspace.  
HP EliteBook 840 G3: Jack of All Trades
Processor: HP EliteBook 840 G3 has an Intel Core i5 6th Generation processor with a CPU Speed of 2.40GHz.  
Display: With a 1920 x 1080 pixels resolution on a 14-inch screen, this business computer ensures crisp and clear visuals for all your computing needs. EliteBook 840 G3 has an Intel HD Graphics card, which is world-famous for its superb visual imagery and immersive gaming experience.  
Storage: With 16 GB of RAM and a 512 GB Solid State Drive (SSD), you will enjoy seamless multitasking and quick access to your files. There is no HDD on the HP EliteBook 840 G3.   
Operating System: On a pre-installed Windows 10 Pro, the renewed EliteBook 840 G3 ensures a familiar and secure computing environment for work and personal use.  
HP ProBook 640 G2: Robust Security 
Processor: HP ProBook 640 G2 has an Intel Core i5-6200U, CPU Speed: 2.30GHz up to 2.80GHz. Additionally, the laptop features an integrated graphics card, ensuring that your visual experiences are high quality.  
Display: The ProBook 640 G2 boasts a display resolution of 1920 x 1080 pixels, ensuring that you enjoy sharp and detailed visuals in all your applications.  
Storage: This laptop has 8GB of RAM installed and a 256 GB SSD to provide a smooth and responsive multitasking experience, making it a suitable choice for business and productivity tasks.  
Security Measures: Your best bet for this laptop should be on its extensive security measures. The ProBook comes with a self-healing BIOS (Basic Input/Output System) protection mechanism, which constantly monitors the BIOS for signs of tampering or corruption. If any issues are detected, it automatically restores the BIOS to a safe state, preventing unauthorized access and potential attacks.  
Conclusion 
HP is one of the leading computer manufacturers in the world, owing to its robust and durable products. At PCMart, we ensure that these gadgets are thoroughly inspected to highlight their original features and agility. Providing our valued customers with top-notch product quality comes at par with excellent customer service.  
HP laptop price in UAE has a stable hold in the Middle East due to governmental encouragement of foreign investment. Utilizing this factor to boost sales, PCMart expects its customers to invest in budget-friendly HP laptops for their business startups or academic purposes.  
If you plan to buy an HP ProBook or EliteBook from PCMart, you can do so by going to our website. We offer deals and discounts occasionally, especially on holidays, so stay tuned for those.  
---
Older Post
Is Dell OptiPlex 7460 as Powerful as They Suggest?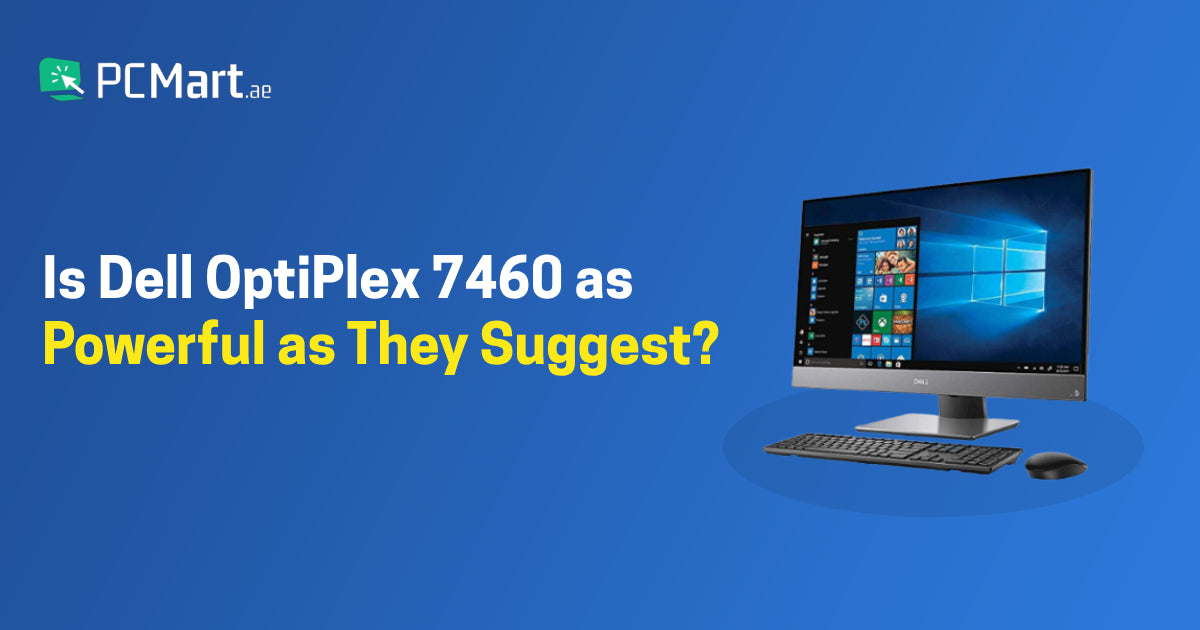 Newer Post
How is the Alienware Laptop dominating the Gaming Market