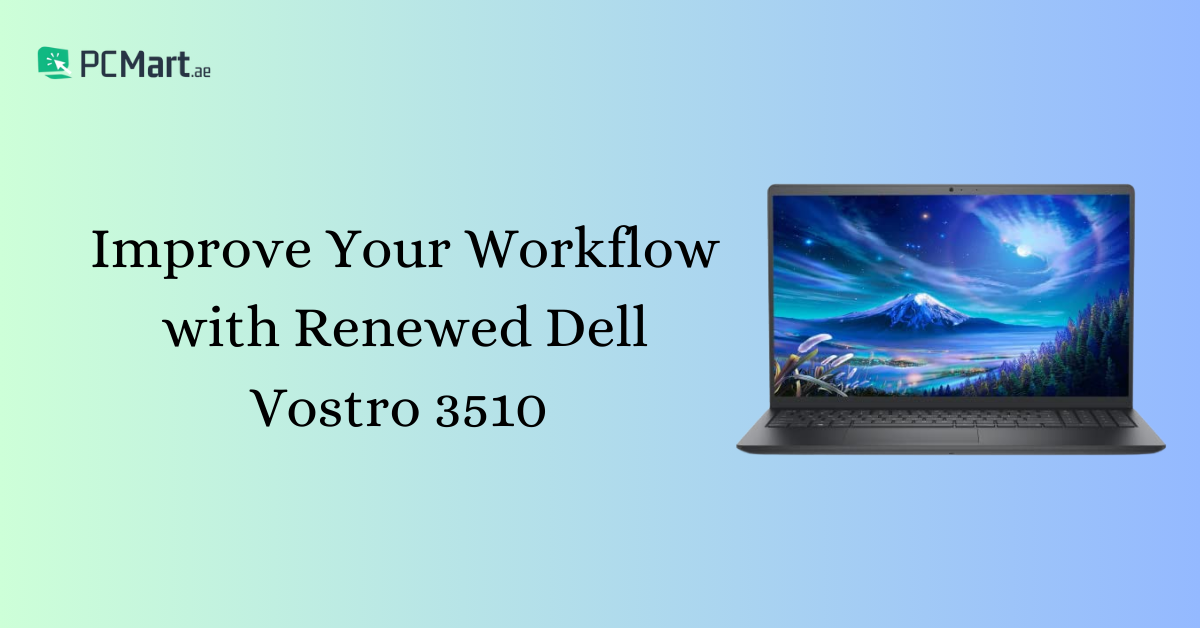 Improve Your Workflow with Renewed Dell Vostro 3510
For entrepreneurs working in the Middle East, Dell Vostro 3510 came as a breath of fresh air. The business laptop not only comes in a mid-range, budget-friendly range but also gives a smooth user experience.  
Given the nature of competitiveness in growing and starting businesses in the Middle East, everything needs to be fast. You need to have faster computing devices, but to get a bulk of them for your office can cost you no less than a fortune. It is why renewed desktop and laptop business became a major success in the Middle East, especially Dubai.  
PCMart has established itself as a leading renewed computer vendor not only in the UAE (United Arab Emirates), but other parts of the Gulf as well. With a focus on providing quality products and exceptional customer service, PCMart has become a trusted name in the IT hardware world.  
We carry renewed gaming desktops and laptops from reputable companies such as HP, Dell, Lenovo, etc.  
Improved Productivity with Our Renewed Dell Vostro 3510
When you think about business workflows and innovating them in the 21st century, you cannot ignore a good computer out of that equation. Sure, some people will go for the glitz and brand loyalty, many others prefer a decent device that can get them from point A to point B.  
The Vostro 3510 produced a niche just that: catering to a base audience with the features of enhanced productivity. The laptop achieves it in the following features: 
Performance
The renewed Dell Vostro 3510 comes with the 11Th Generation Intel Core i5 (it can also support i3 and i7 cores), providing a significant boost in performance compared to its predecessors.
The computer has your back no matter if you are multitasking, running resource-intensive software, or working with large datasets.  
For its price range at PCMart, getting a powerful performance that ensures smooth and efficient operation is no less than a blessing for professional people.  
Storage Capacity
The renewed Vostro 3510 offers generous storage options, including high capacity 512GB solid-state drive (SSDs) and pre-installed 16GB RAM (Random Access Memory).  
A great benefit for sporting ample storage space by a business laptop is that you can store all your important files, documents, and media without worrying about running out of space.
Additionally, the laptop provides options for expandable memory, allowing you to upgrade RAM as per your requirements, ensuring seamless multitasking and faster data processing. 
Streamlining Workflow Features
Immersive Display
The Vostro 3510 features a vibrant and immersive display of 15 inches FHD, allowing you to work with the utmost clarity and precision.  
The Full HD immersive experience can make it a good contender for being a gaming laptop, but you would have to make other arrangements.
With its original components, you can use the display features for editing graphics, analyzing data, or creating presentations with high color, accurate representation of visuals.
Even though its display is not in the league with the high-end laptops, it is still decent and innovative for business workflows to run smoothly. 
Ergonomic Keyboard and Touchpad
The 3510 model is designed with an ergonomic keyboard for mid-range laptop series. The key travel is smoother, but it can give clicky sounds which may annoy some people.  
The key spacing is efficient for typing, reducing the strain on your hands during long work sessions. The precision touchpad ensures precise cursor control, making it easier to navigate through documents and applications. 
The trackpad is also highly responsible, and you would not have to sprain your wrists to reach or use it.  
Enhanced Connectivity
Dell Vostro 15 3510 offers a range of connectivity options that facilitate seamless collaboration and communication. Its multiple USB ports, HDMI, and an SD card reader allow you to connect peripherals and external storage devices with ease.
The inclusion of USB Type-C and Thunderbolt 3 ports provides high-speed data transfer and fast charging capabilities, making it convenient to connect to modern devices (read iPhone 15) and other accessories. 
The Wi-Fi and Bluetooth capabilities enable you to connect to the internet and share files wirelessly. This connectivity ensures you can stay connected with colleagues, clients, and teammates, regardless of your location.
Features like these come in handy when people work from home, or for general file sharing across the devices. 
Collaboration Features of Vostro 3510 Laptop
In an office setting, collaboration among the team members via video calls and meetings is a huge part of the daily collaboration. With an integrated HD webcam and dual-array microphones, you can easily participate in video conferences and virtual meetings, ensuring effective communication and collaboration regardless of your location.  
The laptop comes with 2 x 2W Stereo Speakers enabling clear and immersive sound during multimedia presentations or online discussions. 
Durability 
For business laptops, durability means longevity of the device. Vostro 3510 is built to withstand the rigors of daily use and frequent travel.  
The sturdy construction and robust hinges ensure durability of the plastic body, even though many computer geeks frown on the body material being plastic.
Their points come from a strictly ecological perspective, where a renewed Vostro 3510 means that the laptop is a perfect candidate for repeated use.  
Conclusion
Especially in its renewed form, Dell Vostro 3510 comes out to be top choice among businesspeople mainly because of its workload handling features in a budget laptop.  
With its enhanced performance capabilities, ample storage and memory options, immersive display, and streamlined connectivity features, it empowers you to tackle demanding tasks efficiently.
The laptop's professional design, collaboration features, and connectivity measures further contribute to a seamless work experience.  
Whether you are a business professional, entrepreneur or a business looking for tech expansion, the Vostro 3510 is designed to meet your productivity needs and help you achieve your goals with ease.
Invest in PCMart's renewed Vostro 3510 laptop and experience the benefits of an optimized workflow and renewed focus in your daily work routine. 
---
Older Post
Lenovo T490: How Our Renewed Workhorse Laptop is the best?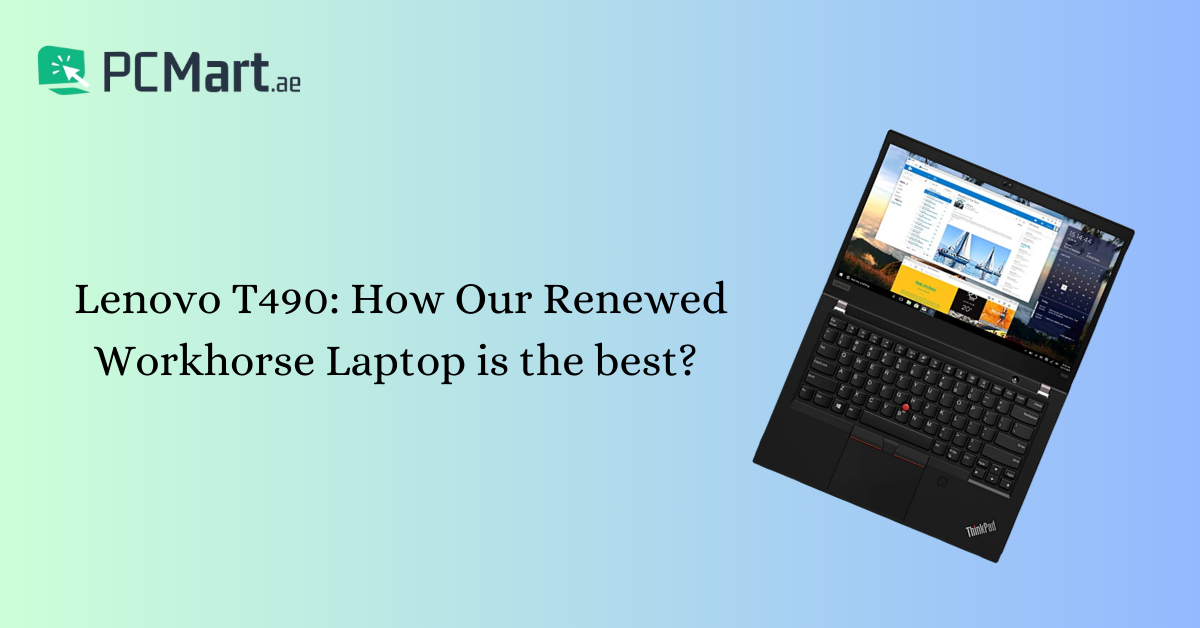 Newer Post
The Monumental Dell Latitude 5580 in all its Glory