The Dell XPS 13 Laptop: Your Ultimate Business Companion in UAE
If you are an entrepreneur working from the UAE, you would have heard your friends telling you to get a reliable business laptop. Many would even go to great lengths about the benefits of getting renewed laptops in the UAE.
It explains why people search for the Dell XPS 13 price in the UAE the most. The laptop has already held its ground in the West, where it was awarded the Best Business Laptop for 2022.  
Choosing PCMart for your renewed laptop purchase is advantageous in the long run. It is because our Dell XPS laptops have the blend of performance, portability, design, and durability for productive work on the go.
From boardrooms to coffee shops, renewed XPS 13 helps you power through tasks wherever business takes you.
Dell XPS 13: An Overview
Dell has a long history of crafting excellent laptops. The XPS 13 continues its tradition of meeting professionals' and creators' needs. It does well in most tests, showing why Dell XPS 13 price in UAE is a popular query. 
The Dell XPS 13 strikes an impressive balance of style and substance. It features a sleek design with thin display borders, packing an impressive amount of technology into a compact 13.4-inch form factor.
Powering the laptop is a 10th-generation Intel processor alongside up to 16 GB of RAM and 1 TB of fast solid-state storage. These high-end components work seamlessly together for smooth multitasking and handling demanding programs.
Product Features
Let us see the best-selling Dell XPS 13 laptop on PCMart, i.e., the Renewed Dell XPS 13 9315. The prominent product features include:
Model Number: XPS 13 9315

Screen Size: 13.4 Inches FHD+

Display Resolution: 1920 × 1200

Hard Disk Size: No HDD

Solid State Drive: 8 GB SSD 

Ram Memory Installed Size: 512 GB

Operating System: Windows 11 Home

Card Description: Integrated

Processor: Intel Core i5-1230U

CPU Speed: 3.30GHz Up To 4.40GHz 
The Dell XPS 13 has various connectivity options, including Thunderbolt 3, USB-C, and a microSD card reader. The laptop also has Wi-Fi 6 capabilities, ensuring fast and reliable internet connectivity.
PCMart Pricing, Return, and Shipping Policies
Getting a Dell XPS 13 9315 from PCMart comes with its perks and privileges. Dell XPS 13 price in UAE cannot come close to our pricing of the product: Dhs. 3,349.00, making it a top-selling device for business and college students. 
We have a free shipping and free return policy, where the warranty stays for 15 days. The tech warranty goes beyond 90 days. Please note that this is not the only Dell XPS 13 available. The  price for i5 and i7 variants are different based on the Intel Core, available at PCMart. 
Distraction Free Design
The laptop is made from machined aluminum, carbon fiber, and Corning Gorilla Glass 6, giving it a premium look and feel. Its slim and lightweight (1.27 kg) design makes it highly portable, perfect for users who are always on the go.
Because it is made to be minimalistic, we see a distraction-free design approach, making Dell XPS 13 price in UAE ideal for its hardware.
The Dell XPS series is famous for its sleek keyboard, function row, and touchpads. They are designed to be cleaner on the corners and light to the touch, with a smooth, comfy style.  
InfinityEdge Display 
The InfinityEdge display is a highlight of the XPS 13. It features thin borders, so the screen takes up more of the laptop's footprint. The resolution goes up to 3840×2400, so whether you're viewing photos, videos, or documents, everything looks incredibly sharp and vibrant. 
The colors are accurate thanks to 100% sRGB coverage. Adaptive brightness keeps the screen easily visible even in daylight. Images truly come to life with these specs.
The 16:10 aspect ratio also gives you more vertical workspace than typical widescreen laptops, a classic reason for such elaborate Dell XPS 13 price in UAE.
Business-Scale Performance
The XPS 13 delivers when it comes to performance. Its 10th-generation Intel Core processor ensures it can handle even the most demanding work with ease. Intel's integrated Iris Plus graphics also allow for occasional video editing or light gaming.
Users can configure the laptop with 11th-generation Intel Core i7 processors and up to 16 GB of RAM. This combination of powerful components handles demanding programs, huge spreadsheets, presentations, and complex multitasking with equal aplomb.
The quick responsiveness helps you stay focused on the work. Generous file storage comes courtesy of the extremely fast solid-state drive.
Security and Privacy
For those concerned with security and privacy, the XPS 13 has a few handy features. Facial recognition login and a fingerprint sensor allow easy, biometric access. A physical webcam cover also helps reassure users when they're not using the camera. 
With these tools, you can feel confident working on sensitive projects knowing your information is protected, and that too for a renewed Dell XPS 13 price in UAE.
Final Verdict
Dell XPS 13 is a reliable laptop perfect for business use based on its hardware and software features. It is extremely lightweight, making it easier to take around. The renewed laptops have similar features to their newer counterparts, with no lack of fast processing. You can build presentations, stream videos, or even play simple video games without making your computer a living hell.
At PCMart, we believe in enabling our customers to do what the laptops do best, but at a reduced price. Plenty of other Dell XPS series laptops are available on the website, which do not have the same features as XPS 13 9310 or 9315 but have the exact power features that are the signature of Dell. 
Want to know more about PCMart's renewed Dell XPS 13 laptops? Click here to find out. 
---
Older Post
Why Are Dell Laptops Better for Your Computing Needs?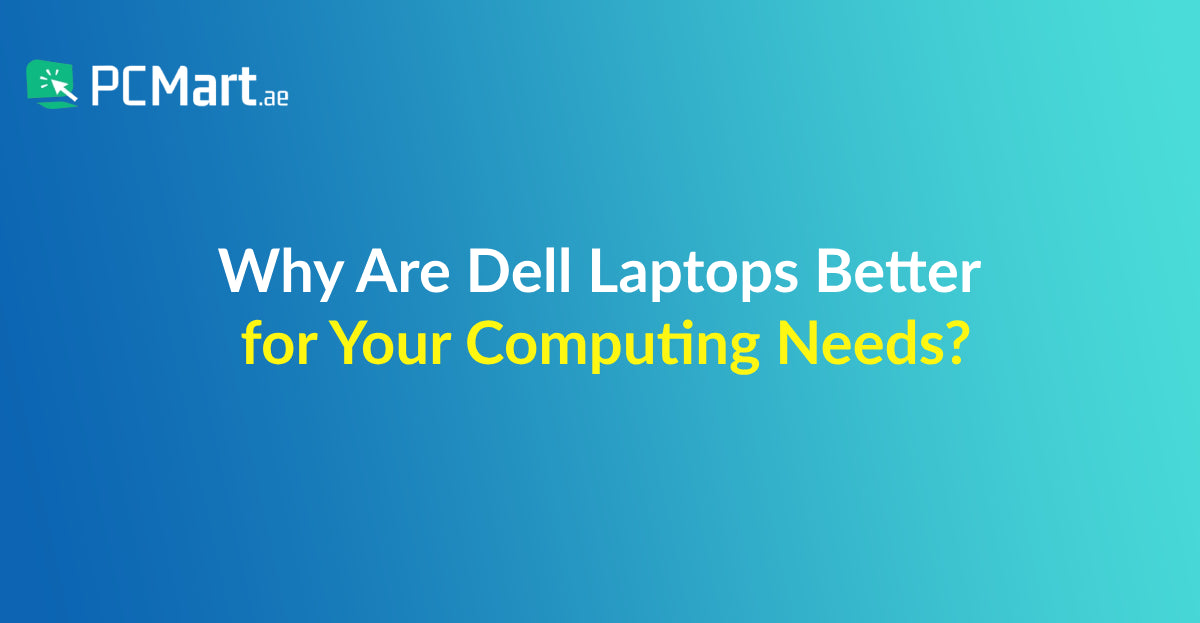 Newer Post
The Best Renewed Laptops for Back to School 2023