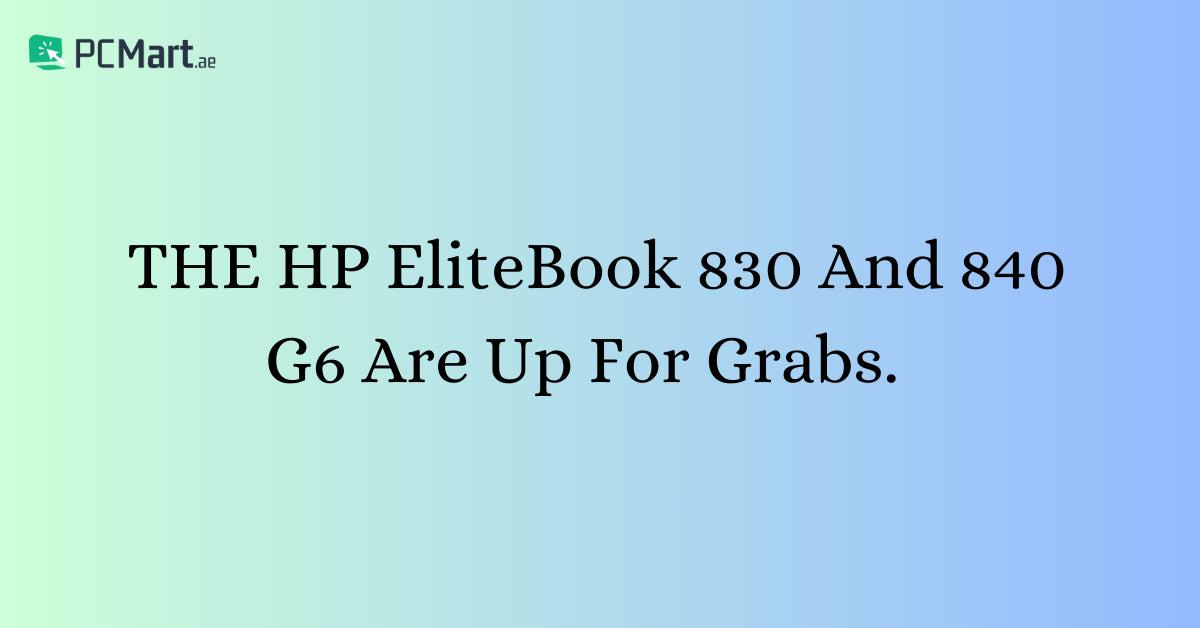 THE HP EliteBook 830 and 840 G6 are up for grabs.
Convenience is so uncommon these days. So is common sense. Customers invest in products that have a huge price tag. They assume that they will make a difference eventually. But that is not the case.
Computer products lose their value at a faster pace. The market is too fierce. If you want to get the job done, then start investing in renewed products. Price is a major factor and that is the case with renewed products.
Don`t forget that renewed product carries a better resale value than newly bought items. The graphic card market is the perfect example.  
Choosing
So, if you are looking for a notebook that can get your work done then the HP EliteBook 830 G6 is the one to get. Don`t worry do not take my word for it. But look at your options.
We spend more money on untested items and when they do not work, we feel miserable. Don`t be like that. At PC mart all our products are fully tested, and we offer a 3-month replacement warranty. So, if your laptop breaks down. Don`t worry we got you covered. 
Prevention
The HP EliteBook 800 G line of business notebooks are a work of art. They bring privacy options that prevent unauthorized access and software that is more than capable than zero-day attacks.
Hp products offer up to 18 hours of battery life, a privacy shutter and performance you can count upon. All models feature intel Whiskey Lake processors. Yes, the name sounds odd. But that is not the only thing you will be getting.
Wi-fi 6 and Bluetooth 5 are also present in these models. The only difference between both 830 G6 and 840 G6 is the screen size. The former comes with a 13.3-inch display whereas the latter comes with 15-inches. 
Performance
If there is one market HP excel at is business notebooks. They have successfully improved the hardware and added software that does wonders for the user. All EliteBook PC will come with HP sure Sense.
This software can help protect your system from unknown threats. For many this provides an external layer of security against so-called zero-day attacks.
The amazing quality of this service is that it comes pre-installed, and HP will never charge you for it. The Sure Sense Security Suite will be the last line of defense against cyber-attacks. 
Never Again
Privacy has become a focus as many non-state actors try to breach systems. That is why HP is upping the ante with hardware that brings privacy back into the fold.
The HP Sure View reduces the viewing angle and ensures the prying eyes have no clue what you are working on. To make matters more justified, HP has also added a privacy shutter.
Concern of hackers taking over webcams is common. This hardware feature will ensure that it never happens. The battery life of 18 hours might seem like a joke but that is not the case. HP other products like spectre also feature these claims and they have the hardware to back them up. 
The Basic Specs For Both HP EliteBook models are as follows
| | | |
| --- | --- | --- |
|    | HP EliteBook 830 G6  | HP EliteBook 840 G6  |
| OS  | Windows 10  | Windows 10  |
| Processor  | Intel i5 or i7   | Intel i5 or i7  |
| Memory  | 8 GB DDR4  | 16 GB DDR4  |
| Upgradable  | Yes  | Yes  |
| Storage  | 256 GB NVME SSD  | 256 GB SATA SSD  |
| Display  | 13.3 Inches  | 14 Inches  |
Conclusion
The HP EliteBook 830 G6 is a nice setup. The keyboard is comfortable and so are the ports. The battery life lasts more than 10 hours and PC Mart backs that up. The only issue is the screen size.
But businesses use this is truly an excellent product. The design is simple. The real fun is in the hardware. If you are looking for privacy, then this laptop is the best suited device. Click here to go straight to the product page.
PC mart tests all computer products. If you have second thoughts, then let us help you make the right decision. 
---
Older Post
Your Wireless Mouse Not Working While Connected? 5 Things to Check
Newer Post
Lenovo ThinkPad X390 vs. T490: Which is the right one for you?