ThinkPad X390 How UAE Businesses Can Take Benefit of Ultraportability?
Before ThinkPad X390 entered the UAE market, Business Laptops were expensive and bulkier. Lenovo produced their X series specifically targeting budding business people who need to work for crazy long hours to get off the ground.
When the stakes are this high, you cannot invest in a simplistic computer that hangs occasionally. Your business and team need quality PCs (Personal Computer) performing well under any duress.  
The problem arises when businesses order in bulk and find how much costlier it has become. As a result, companies wait for seasonal and end-of-the-year sales to get a fraction off on their chosen electronics. With vendors such as PCMart, this problem gets resolved through renewed desktops and laptops.  
Because of our quality products, we have become a trusted name in the computer retail industry in the UAE and across the Middle East.
Our online inventory has many business-friendly options, but we trust the Lenovo ThinkPad X390 more than any other laptop because of its performance and build.
The UAE is a global hub for business and innovation, and its lifestyle requires the fast-paced demands of the modern world. A renewed ThinkPad X390 from PCMart can be a powerful and ultraportable business laptop that offers several benefits for your business.  
Why Should Business Laptops Be Portable?
Before we discover the benefits of using Lenovo ThinkPad computers, we must understand why you need ultraportable laptops. Companies primarily invest in portable laptops so employees can complete tasks away from their workspaces.  
Lenovo has made its reputation for designing and selling ultraportable laptops that can endure any environment. Their ThinkPad X series came to empower employees to work on the go – filing reports, handing in articles, marketing products, completing sales, and running outreach programs all from the comfort of their homes. It is why Lenovo's products became a high-demand item during the pandemic.  
The mobility of business laptops makes them easy for presentations and demonstrations because they are lightweight. 
Unpacking ThinkPad X390 Specifications
Let us dive into the specifications: the ThinkPad X390 is engineered for professionals who need a computer that will not weigh them down. Calling X390 a testament to Lenovo's commitment to delivering high-performance computing in a compact form would not be exaggerating.  
At PCMart, we recognize its potential, so it is our first recommendation to entrepreneurs and companies planning to expand in Dubai and the rest of the UAE. Here are a few benefits you can get because of its build and interface: 
Exterior
The chassis of the X390 is made of magnesium alloy for maximum strength and durability. It marked improvement over the older series entries, which had metal chassis. The little sides, made of metal, feel smooth, giving an overall glossy texture. 
Lenovo ThinkPad X390 sports a 13.3-inch screen in a chassis that is only about a quarter-inch wider and deeper than its predecessors. The ThinkPad X390 exudes a classic ThinkPad design with its signature black chassis and red accents. Despite its lightweight and slim profile, the laptop does not compromise durability. The robust build ensures it can withstand the rigors of frequent travel and the demands of a dynamic work environment. 
Performance 
Under the hood, the ThinkPad X390 does not hold back. Equipped with an Intel Core i5-8350U 1.7GHz processor, 8GB DDR4 RAM (Random Access Memory), and 256GB SSD (Solid State Drive) storage options, it ensures that users experience seamless multitasking and rapid data access.  
This combination of power and efficiency is a meaningful change for business professionals who demand high performance from their devices.  
Display 
The laptop features a compact yet vibrant display. The narrow bezels maximize the screen real estate, providing an immersive viewing experience for work and entertainment.  
The ThinkPad X390 features Full HD resolution and vibrant color reproduction, making it ideal for professionals who require sharp visuals and accurate color representation.
Whether creating presentations, analyzing complex data, or collaborating with team members, the brilliant display of the ThinkPad X390 enhances productivity and provides a visually immersive experience. 
Unique Features of a PCMart's Renewed ThinkPad X390
PCMart houses laptops and desktops from various popular brands such as HP, Lenovo, Dell, and Toshiba, among many others. For the ThinkPad X series to stand out, it must have some unique features, which are even more amplified once the computer gets renewed with professionally revamped parts and components. And it does.  
The following are some of the unique features of the Lenovo ThinkPad X390 that make us recommend it to our business clients: 
ThinkShutter webcam cover:

This physical cover slides over the webcam lens to block it from view, providing additional privacy and security when not in use.

 
Rapid Charge technology:

This allows the laptop to be charged to 80% capacity in just 60 minutes, so you can quickly power up your device when you are short on time.

 
Comprehensive security features:

The X390 includes a suite of advanced security features to protect your sensitive business data, including a fingerprint reader, and a TPM (Trusted Platform Module) chip.

 
Ultrportability:

ThinkPad X390 empowers UAE professionals to work efficiently in diverse settings. Whether you are attending client meetings, working from a co-working space, or collaborating with remote teams, the laptop's lightweight design makes it easier to carry the computer around.

Network Features:

This laptop offers optional global LTE-A WWAN. The unique feature allows your renewed laptop to stay connected to the internet even when you are out of range of Wi-Fi.

 
Conclusion
The Lenovo ThinkPad X390 is a powerful and versatile ultraportable business laptop that perfectly balances performance, portability, and security. It is ideal for professionals who need a reliable and durable device that can keep up with their demanding workloads on the go.  
Its lightweight design, powerful performance, advanced features, and renewed assembly make it popular among professionals on the move in the UAE's fast-paced business environment.  
With its availability through PCMart UAE, businesses and professionals can easily leverage the benefits of ultraportability and stay productive regardless of location.  
Embrace the power of the ThinkPad X390 and unlock new productivity levels in your UAE business from our website or physical store. Place your first order and get 20 AED off. So do not hold back – we only have ten items in the inventory, which are selling fast! 
---
Older Post
Lenovo ThinkPad X390 vs. T490: Which is the right one for you?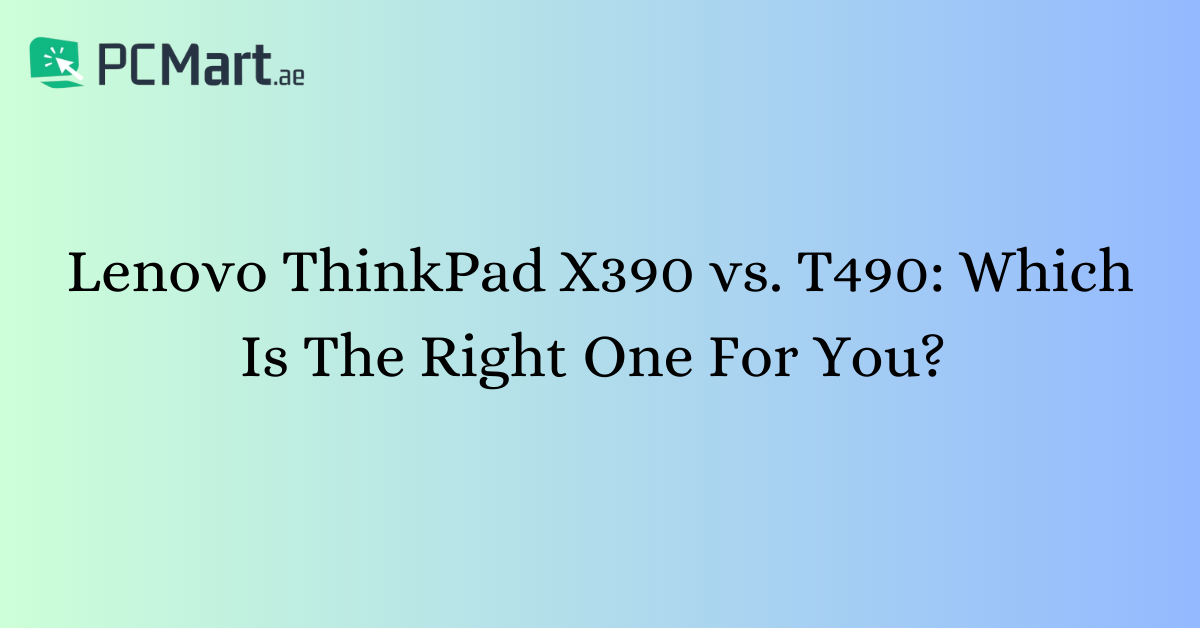 Newer Post
The Amazing Contrast Between Dell Latitude 5580 and 5590