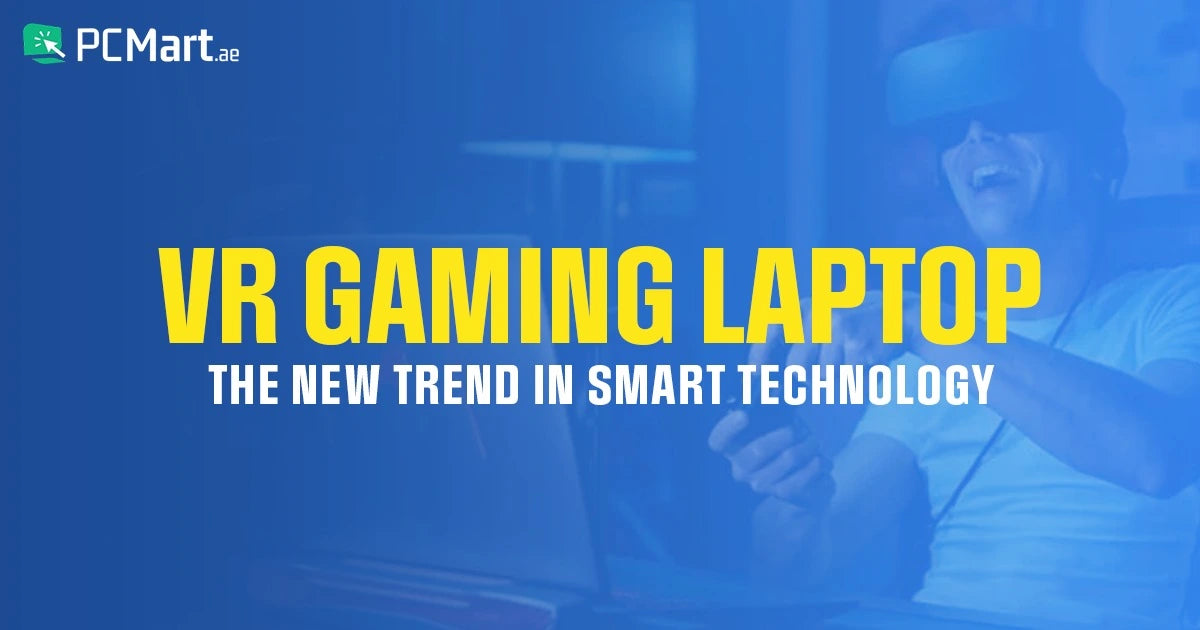 VR Gaming Laptop: The New Trend in Smart Technology
Let's talk numbers first! According to Grand View Research, the VR gaming business was worth $14.55 billion in 2020, and it had expanded just modestly in the preceding years.
The revenue projection for 2027 is only four years away. This amounts to an astonishing $92.31 billion. So if you are new to VR gaming, investing in a gaming laptop is a viable option.
A recent study on VR headsets sent tingles down every gaming geek's spine. As per the study, the global volume of VR headsets in the consumer electronics market was predicted to expand by 5.5 million pieces (+25.28 percent) between 2023 and 2028.
What to Expect from VR on Gaming Laptops?
VR technology enhances the sense of presence, making gamers feel as if they are physically present in the game. With the power of virtual reality, players may experience a degree of involvement and emotion that is not previously achievable with traditional gaming platforms.
VR gadgets, for both users and developers, provide a tangible new dimension to the game experience. This includes not only generating wholly new experiences but also innovating on existing ones.
Take for example the wildly popular game GeoFS. Having first-hand experience playing this game on a VR headset, I can assure you it feels as if you are in the cockpit of an actual plane itself. Everything feels so real that oftentimes you forget it's actually a game. 
Why do you need a Gaming Laptop to Get the Most out of your VR Experience?
VR is a technology with a sense of immersion that enables users to experience a virtual environment as if it were true. To do this, your computer requires adequate processing power since it must generate and present 3D models in real time. So, why do we go towards a gaming PC?
VR requires GPU and CPU-intensive hardware, with each component playing a vital role in its performance.
The GPU (Graphics Processing Unit) generates 3D graphics shown on the headset's screen, while the CPU (Central Processing Unit) controls all aspects of system operation, such as handling VR software, following user movements, and regulating peripherals.
Role of GPU in VR Gaming
VR requires the GPU to render a large amount of textures. For an immersive experience, a high-end GPU will give you better frame rates.
Similarly, display resolution impacts the workload on the GPU; higher resolutions in turn require a capable GPU. With a gaming laptop, you can easily achieve that.
Role of CPU in VR Gaming
Likewise, the CPU is essential for VR, as it must manage the overall performance of the system. 
You can Elevate your VR gaming experience to new heights with a  powered laptop by a high-performance CPU. When you step into the world of virtual reality, every detail matters, and a high-performance CPU is your key to immersive gaming.
The higher the performance of these hardware elements, the more prospects in your gaming experience. To get an easy resolution for this problem, we tend to turn our heads toward the world of high-end laptops. 
Which Gaming Laptops are the best for VR Gaming?
Having concluded that you need a high-power gaming laptop for the utmost VR gaming experience, we are presented with the question. Which ones are best for gaming? So let's look at some of the best products on the market.
Dell Alienware X15 R2
You can get this 12th Gen, Win 11 Pro, Intel Core I9 laptop equipped with GeForce RTX 3080 Ti 16 GB and a 15.6" FHD screen operating at 165Hz. Moreover, with 16 GB RAM and 512 GB SSD, you can never worry about running low on speed. 
When this 12th Gen laptop is paired with the Nvidia RTX 3080, it has proven to be a mighty competitor in the market capable of running heavy VR games. This makes it a viable product at PCMart.
Dell Alienware M15 R3
You can get this Intel Core I7, 10th Gen – I7-10875H – 2.30 GHz laptop equipped with NVIDIA GeForce RTX 2070 SUPER and a 15.6" FHD screen for a fraction of the original price through PCMart.
A 2.30GHz processor speed which rises up to 5GHz is the perfect clock speed required for maximum performance in VR gaming.
Dell Alienware M15 R4 FHD
You can get this Intel Core I7-10870H 2.20 GHz Processor laptop equipped with Nvidia GeForce RTX 3070 8GB GDDR6 at PCMart. A 64GB DDR4 RAM, 2TB HDD, and 512GB SSD give you the freedom to download as many games as you want. 
The best part about this laptop is that it is upgradeable to a great extent. You can customize it to fit your computing needs in whichever way you deem fit. It also allows easy integration with VR headsets and the capability to run them smoothly.
This is but just the tip of the iceberg when it comes to the products at PCMart. Gander onto the webpage of PCMart to compare your choices and start your journey.
Conclusion
All this talk must have gotten you excited and eager to start your new gaming experience. Well, we have just the thing for you.
PCMart is a high-end e-commerce platform for computer geeks to fulfill their computing needs. We have the best renewed laptops on the market and that too for a fragment of the actual price. Why waste hundreds and thousands of dollars on laptops that don't even fill your need for the thrill? 
---
Older Post
The Best Renewed Laptops for Back to School 2023
Newer Post
Which is the Best Gaming Desktop for E-Sport Games?