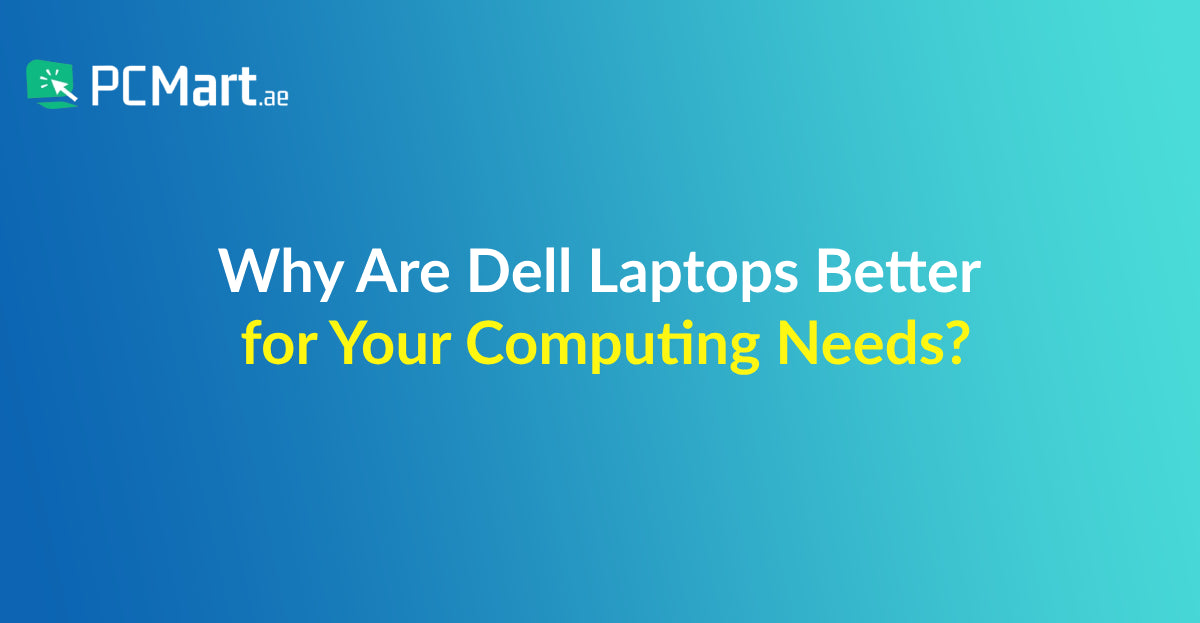 Why Are Dell Laptops Better for Your Computing Needs?
No matter how many deals you get on the best and latest laptops, choosing the suitable device for your needs takes time and effort. You have first to decide your needs, whether you want HP or Dell laptops or even if it is a used or renewed laptop. There is just no easy way out.
Fortunately for the people of the Middle East, PCMart UAE brings a pristine collection of Dell laptops. Renewed Dell laptop price in Dubai falls somewhere between Dhs. 3,000 to 8,000 – one of the most reasonable prices in the market.
Following is an overview of the laptops from Dell on the PCMart website, their features, and functionality for better computing needs. 
Dell Laptops – Quality Key Features
Dell stands out as a reputable brand known for its quality and performance. As a premier PC manufacturer, Dell packs the latest hardware into stylish and practical laptop designs. Dell models like the XPS, Inspiron, Latitude, and Precision deliver an ideal blend of performance, build quality, customization, and support.  
Most of the laptops by Dell have key quality features standard for every series. We have compiled some of them below, based on our inventory of renewed laptops:
RAM:

These notebooks have loads of memory options for you. You can select from a variety starting at 4 GB RAM up to 64 GB. 
Storage:

In terms of storage capacity, you have quite a range to choose from. Drives can start as small as 500 GB and go up to 2 TB (and beyond).
Processor:

These laptops come packed with quite powerful processors. They range from the 7th generation Intel Core to the 13th generation Intel Core and AMD Ryzen processors. Please note that the Dell laptop price in the UAE varies based on the internal components.
Operating System:

These notebooks offer you the choice of four unique operating systems. You can pick from the ever-popular Windows 10, the versatile Linux Ubuntu, or the superfast Chrome OS.
Display Options:

The options for display are limitless. Dell offers a diverse selection of screen sizes, ranging from 11 to 17 inches, and provides a choice between touch and non-touch options. Additionally, Dell caters to various preferences with a range of screen resolutions to enhance your computing experience. Several options exist for the resolution of your screen. These start with HD and HD+ and progress via vivid Full HD and Full HD+ to jaw-dropping 4K and UHD+.
Durability:

These notebooks typically last between three and five years.
Which Dell Laptop Should You Buy?
Here is the list of Dell laptop series popular among UAE customers:
Dell XPS Series
You need the Dell XPS series if you:
Use multiple intensive programs

Edit or make videos, music, or other digital content

For Gaming
Dell Inspiron Series
You need the Dell Inspiron series if you:
Want a laptop for essential home and office work

Useful for daily tasks

Useful for video/audio chat 
Dell Latitude Series
You need the Dell Latitude series if you:
a laptop that is reliable and durable

for extensive business activities

Want to have seamless connectivity to enhance performance
If you are a student and want a renewed laptop at PCMart, Dell Latitude 7280 is one of the best options. Your only need is a Dell laptop for essential office work or internet browsing; our Inspiron 15 3510 is the answer. 
Still, if you need to know which laptop is for you, you can always choose one based on the cost. At PCMart, Dell Latitude business laptops are starting as low as Dhs. 285 only.  
Do Dell Computers Come With Configuration Options?
A wide array of components allows configuring a Dell laptop precisely for your needs. Choices of operating systems, displays, RAM, storage, graphics, and connectivity make it easy to customize your ideal laptop. Upgrade during initial purchase or down the road.
Every individual has unique computing needs, and Dell understands this. A Dell laptop can be tailored to your specific requirements with various customization options. From choosing the suitable processor and memory to selecting the ideal storage capacity, you can create a laptop that aligns perfectly with your computing goals.
Does Dell Support Immersive Gaming? 
With unparalleled speed, breathtaking visuals, and tremendous processing power, Dell has become synonymous with gaming. At PCMart, we often get customers asking for the best-renewed gaming laptops, and the Dell Alienware M15 R2 Laptop is our prime choice. 
The user is treated to a 12th Gen H-Series i9 CPU and up to an RTX 3080 Ti into the thinnest and lightest chassis that Dell has ever used for a gaming laptop.
It can also be configured with up to 32 GB of DDR5 RAM, a massive 4TB SSD, and a beautiful FHD display with a refresh rate of 165Hz, 240Hz, or 360Hz.
We're also big fans of the Dell G15, a less expensive alternative with an 11th Gen i5 H-Series CPU, an RTX 3050 Ti, DDR4 memory, and an FHD 120Hz panel.
What Is the Battery Life of Laptops Series by Dell?
Dell laptop price in the UAE is justified for their lasting battery power. Even when renewed, these laptops are not cut based on their battery performance, making them an ideal purchase choice for those looking to get lasting battery life with some bucks to save.
The Dell Inspiron series has some of the highest battery life on the market, up to 12 hours. Did you know that many of these laptops have dual voltage support? While traveling abroad, you have to take your plug adapter. You can also use any of the laptops Dell offers, and you are good to go. 
Is There a Warranty for Renewed Dell Laptops At PCMart?
At PCMart, we believe in second chances. If you feel like a laptop or PC differs from what you want, you can always exchange it with another. We have a 90-day renewed warranty. Please note that we have tested every item thoroughly. There are no signs of cosmetic damage at all. 
We also have specific deals and discounts available from time to time on our website. If you want to know which deals are available, head to our website for more information. 
Conclusion
When it comes to the laptop market, Dell has made a definite niche for itself with a blend of excellence, efficiency, and pioneering ideas. From their reliability and durability to their cutting-edge technology and customization options, Dell computers are designed to cater to diverse computing needs.
Whether you're a professional, student, or casual user, choosing a Dell laptop can strategically elevate your computing experience to new heights.
If you want to purchase a laptop of any series powered by Dell, you can always browse PCMart for your choice of laptop.
---
Older Post
Which Renewed Lenovo ThinkPad Is Best for Businesses?
Newer Post
The Dell XPS 13 Laptop: Your Ultimate Business Companion in UAE