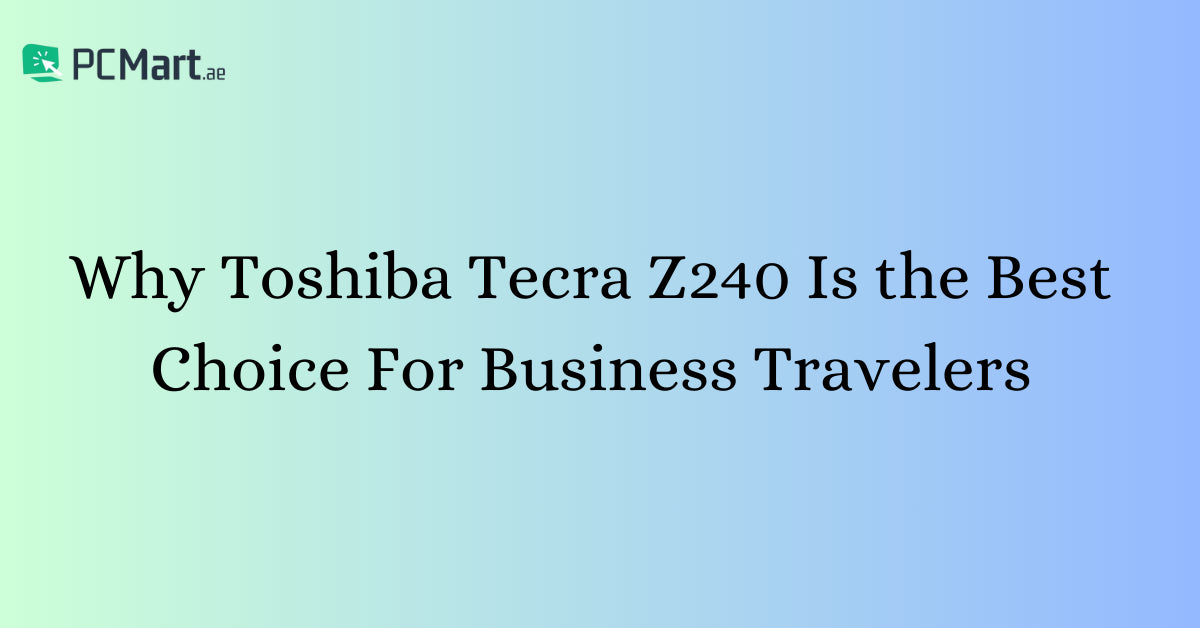 Why Toshiba Tecra Z240 Is the Best Choice for Business Travelers
Regarding portability and agility, a Toshiba laptop is often the go-to choice. Especially when the buyers are business travelers with unique needs when using laptops. Overall, it is not just portability that works wonders.
It has great durability and performance. It so happens that Toshiba Tecra Z240 checks all the marks.   
Pair the laptop with thorough inspection and upgrades, and a renewed Tecra Z240 can be the perfect computer for remote workers.
At PCMart, we ensure that all our products vary based on needs and budgets without compromising the quality.
It is no wonder that with a commitment to customer satisfaction and a focus on quality products, PCMart has established itself as a leading retailer of laptops and computers in the UAE and beyond.  
In the following blog, we will examine the Tecra Z240, its features, benefits, and challenges to determine why it is the best choice for traveling businesspeople.  
Why Choose a Renewed Toshiba Laptop? 
Entrepreneurs involved with businesses and start-ups must be on the go, especially if they are a product-based niche.
According to a study by SquareTrade, over 30% of business travelers report accidental damage to their laptops within the first year.  
In such circumstances, a laptop that is easy to carry is the best investment. The problem arises when they must take time out of their busy schedules to determine a brand that can efficiently handle their line of work.  
Enters Toshiba, a brand with decades of notoriety in making electronics user-friendly. The manufacturer began its journey in 1875 and has since transformed itself into a tech giant, especially in Asia.
Even for renewed ones, you can quickly identify a Toshiba laptop from the rest based solely on design details and seamless performance.  
A Toshiba business laptop can last up to 3 years with heavy usage (that might also result in some damage).
A renewed Toshiba business laptop can push the limits to 5 years, and it is because of meticulous inspection undertaken by PCMart's professionals at the time of renewing the product.  
Benefits of Toshiba Tecra Z240 Laptop for Business 
PCMart offers Toshiba's Tecra in two renewed models for slightly different prices: The higher priced has an Intel Core i5 Processor, 16GB RAM, 512 Solid State Drive, Wi-Fi & Bluetooth and Webcam connectivity, and a pre-built Windows 10 Pro.  
The lesser-priced model includes 8GB RAM, 256 SSD (Solid State Drive), and renewed Windows 10 Professional. Unlike the higher-end model with 2.5 GHz frequency, the less RAM laptop understandably comes with 1.2 GHz.  
Even though the features and prices are different for these renewed models, both have the following features that make them prime choices among digital nomads:   
Portability  
The Tecra Z240 is lightweight at just 3.24 lbs. (1.46 kgs), yet it sports a 14-inch screen, which strikes the perfect balance between screen size and weight. Compared to market-competitive devices, the Tecra laptops are lighter and easier to carry. The 0.8-inch-thick design also makes slipping into a briefcase or bag easy.  
Business trips also mean your laptop may get tossed around in transit. The Tecra Z240 features a magnesium alloy, causing it to absorb shock if you accidentally drop your bag.
The LCD is also reinforced to protect the screen from cracking or scratching. Using a magnesium exterior chassis with a matte finish is a significant factor in increasing portability, and Toshiba understood what needed to be done with this computer.  
Performance 
Maximizing productivity on the road is essential. The Tecra Z240 features a powerful Intel Core i5 processor, ample RAM, and a fast solid-state drive.
This hardware combination delivers snappy performance for running multiple applications and browser tabs simultaneously.  
The Toshiba Tecra Z240 boasts a powerful Intel Core processor that ensures your applications run smoothly and quickly.
This laptop can handle multiple tasks simultaneously without breaking a sweat, making it ideal for business travelers who need to be efficient.  
Device Security  
Protecting sensitive company data is imperative for business travelers. Statistics indicate that 60% of business travelers worry about data security on the road, and the Tecra Z240 addresses those concerns head-on.
The device has enterprise-level security with Intel's vPro technology for advanced encryption and malware protection.  
VeriFace facial recognition provides easy and secure user authentication as well. According to research by Entrust Datacard, 51% of business travelers feel data security is a top priority in choosing a work laptop. The Tecra Z240 delivers on that need.  
Battery Life 
A renewed Tecra Z240 offers an impressive battery life of up to 11 hours, making it one of the longest-lasting laptops in its class.
It means you can work through a long flight or a series of meetings without constantly searching for a power outlet.  
High-Speed Connectivity 
In an era where a reliable internet connection is crucial, the Tecra Z240 does not disappoint. Equipped with the latest Wi-Fi standards, this laptop ensures you stay connected wherever you are.
With data showing that 87% of business travelers need reliable Wi-Fi access, the Tecra Z240's high-speed connectivity is a significant advantage.  
Keyboard and Navigation 
The full-size, chiclet-style keyboard is backlit, and the short-travel keys are fast and responsive. Integrated mouse buttons protrude out of the touchpad at its top and bottom. A blue pointing stick is also in the middle of the keyboard for page navigation.  
Conclusion 
With its portability, durability, security, and performance blend, the Toshiba Tecra Z240 is a top choice for business travelers.
Businesspeople choose this Toshiba laptop due to its lightweight yet rugged design.
The excellent battery life for a 14-inch screen is nothing less than a marvel for people who travel a lot and do not always have access to electricity.  
Toshiba packed enterprise-level security into a slim package to protect sensitive data, and PCMart ensured the components were functioning at their maximum for the next wave of users.
If you feel that the Toshiba Tecra Z240 is a reliable partner that empowers productivity, head to our website to get the best business laptops in the market. Hurry up and get 20 AED on your first purchase today! 
---
Older Post
Why HP EliteBook 840 is a Good Fit For Businesses?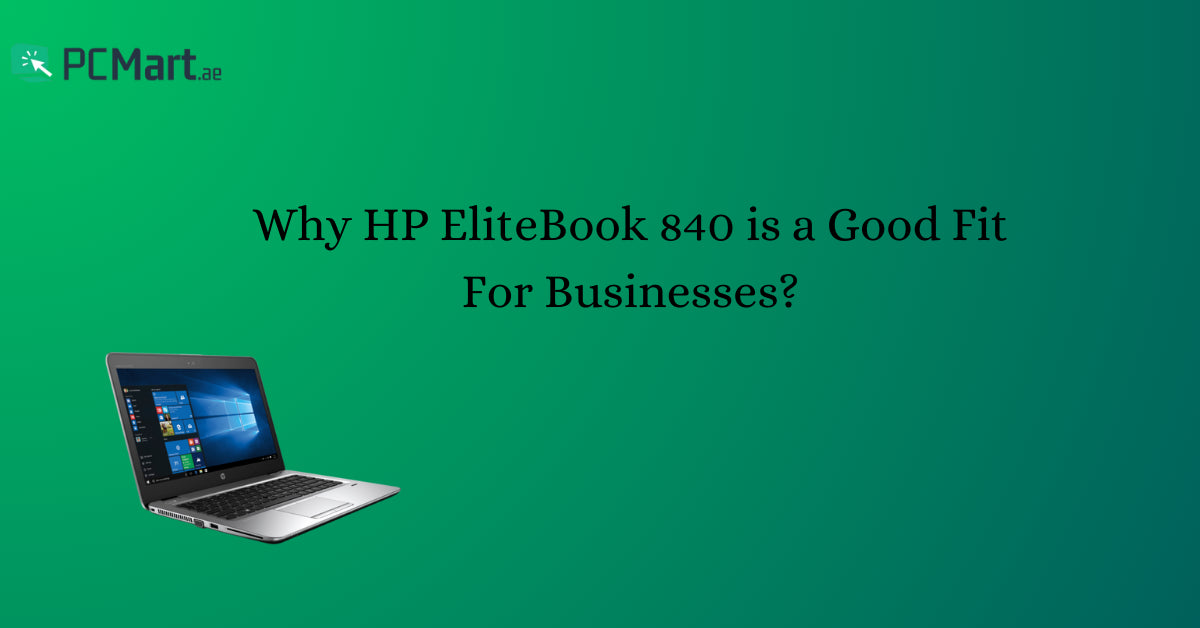 Newer Post
Boosting your PC (Personal Computer) Capabilities Through a DDR4 RAM